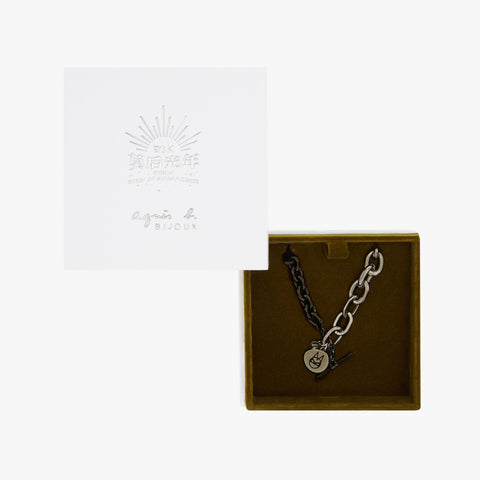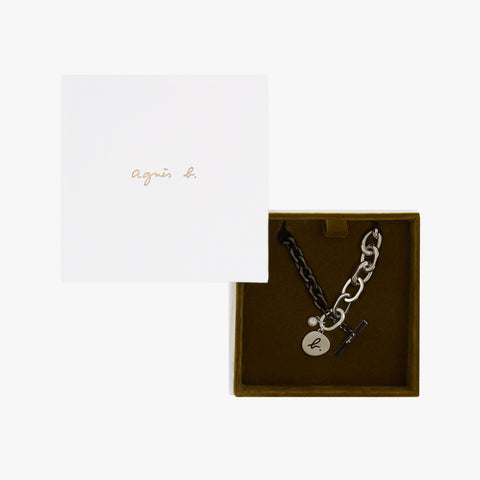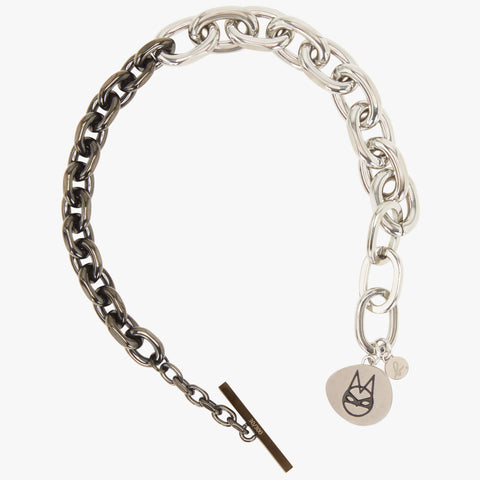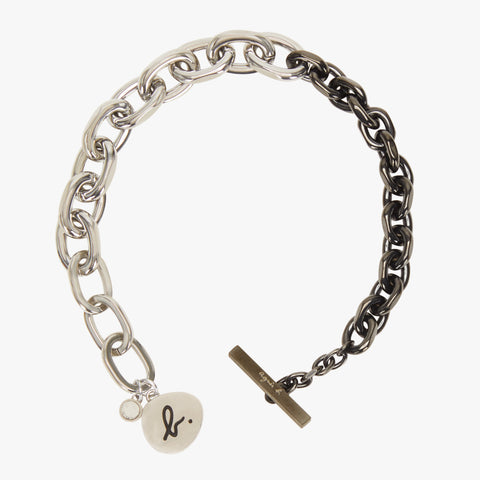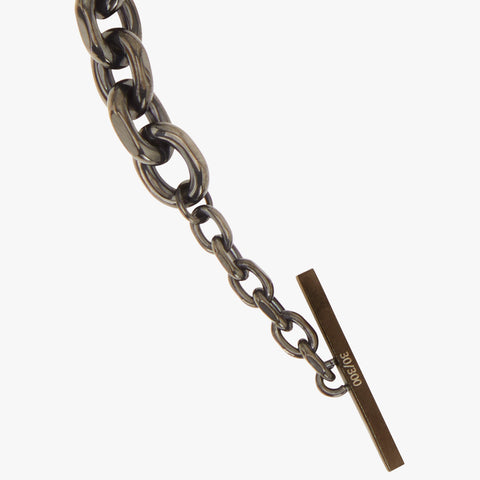 agnes b. x Karen Mok - Bracelet (Limited-Edition) 限量版紀念手鍊
為慶祝莫文蔚 (Karen)小姐出道30周年這個美麗時刻,agnès b. BIJOUX特別與Karen聯乘推出限量版紀念手鍊 ── 手鍊以銀白色鋼幼鏈及黑槍鋼粗鏈相連而成,中性設計,簡約設計型格亮麗;手鍊配襯由Karen原創的虛擬漫畫人物「莫貓寶貝」(Mok-A-Bye Kitty) 頭像吊牌,宣揚環保及關愛動物的訊息,吊牌背面則為agnès b.的經典品牌商標,優雅大方。
agnès b. BIJOUX與Karen聯乘手鍊全球限量生產300條,每條手鍊均刻上獨特編號,每條都是獨一無二,極具收藏價值。
此限量版紀念手鍊部份收益將會撥捐本地慈善機構,與Karen一同分享愛心。
產品圈圍尺寸: 7.5 吋

此產品為預訂產品 :
• 預訂日期 : 即日起至2023年12月31日
• 訂購時間 : 3天
• 出貨日期:2023年12月1日至2024年1月4日 (不包括公眾及法定假期)
送貨安排
• 此產品免費配送至香港地區,恕不配送至國內及海外。
• 貨品將有機會於選定出貨日期之前或當天寄出。
• 實際出貨日期根據快遞的時間表而定。商業地址的訂單將在上午10點至下午6點之間交付,住宅1地址的訂單則在上午10點至晚上10點之間交付(公眾假期和法定假期除外)
• 所有送貨服務限制將根據快遞公司條款約束。
• 送貨服務不適用於所有邊境、限制區域和離島,包括愉景灣、馬灣、平洲、長洲、梅窩和南丫島。
• 送貨服務不包括經樓梯送貨服務。
**此優惠價格只限莫文蔚Fans Club使用。訂單中的個人資料將由莫文蔚Fans Club及agnes b.收集作推廣用途。
To celebrate the 30th anniversary of renowned singer and actress Karen Mok, agnès b. BIJOUX proudly presents limited-edition bracelet collaboration. The bracelet features a combination of silver colour and gunmetal colour steel chains, exuding a stylish and unisex design. The minimalist yet vibrant style perfectly captures the beauty of this special moment.
This exclusive collaboration between agnès b. BIJOUX and Karen Mok consists of only 300 limited-edition bracelets worldwide. Each bracelet is engraved with a unique serial number, making it truly one-of-a-kind and highly collectible.
This limited-edition bracelet will donate a portion of the proceeds to local charitable organizations, sharing love and kindness together with Karen.
Product circumference: 7.5 inches
IT IS PRE-ORDER ITEMS :
• Pre-order period : Now to 31 Dec 2023
• Pre-order day : 3 days
• Dispatch period:01 Dec 2023 - 04 Jan 2024 (public & statutory holidays excluded)
DELIVERY ARRANGEMENT
• Free delivery to Hong Kong address. Delivery is not available to mainland China or        overseas.
• Parcel will be sent on or before the delivery date selected when checkout.
• The actual delivery date depends on the schedule of courier. Orders will be delivered from 10am to 6pm for commercial addresses and 10am to 10pm for residential addresses (public & statutory holidays excluded).
• All delivery service restrictions refer to courier.
• Delivery service is not available to all borders, restricted areas and outlying islands including Discovery Bay, Ma Wan, Ping Chau, Cheung Chau, Mui Wo, Lamma Island.
• Deliveries requiring walk-up floors are not available.
**The discount is limited-offered for Karen Mok Fans Club. The personal data in order details will be collected by Karen Mok Fans Club and agnes b. for communication purposes.

Ingredients / 成份
不锈鋼 – IP淺鍍管槍色,拋光處理,施華洛世奇鋯石 / Stainless Steel - IP Steel & IP light gunmetal Plated Polished Finish with black enamel and marquise cut stone.
Delivery or pick-up / 送貨或取貨安排
Remark / 備註
圖片只供參考。
Photo is for reference only.