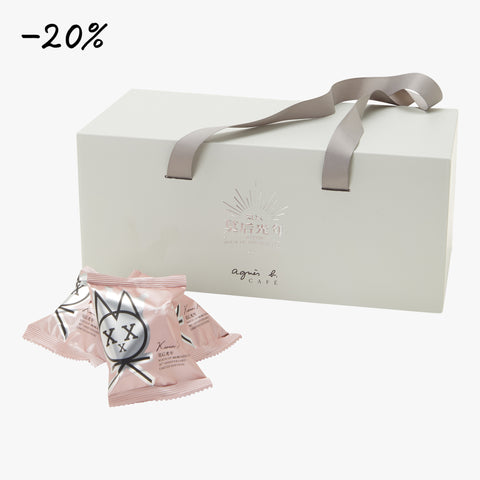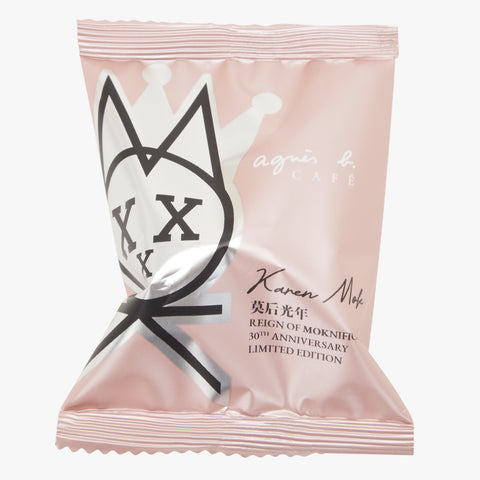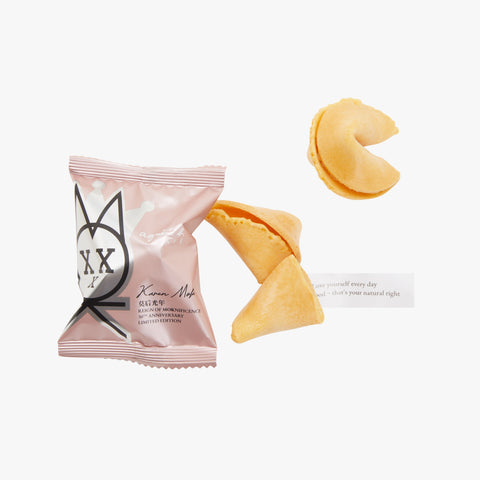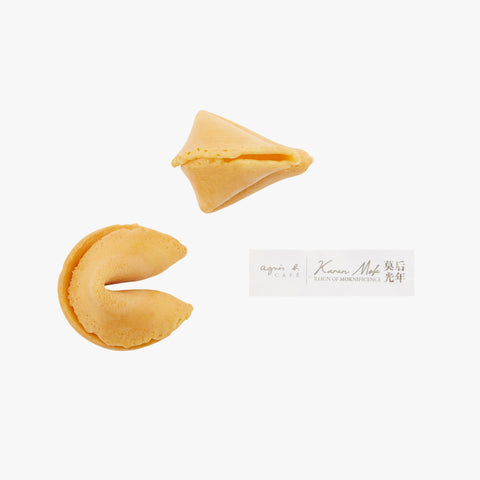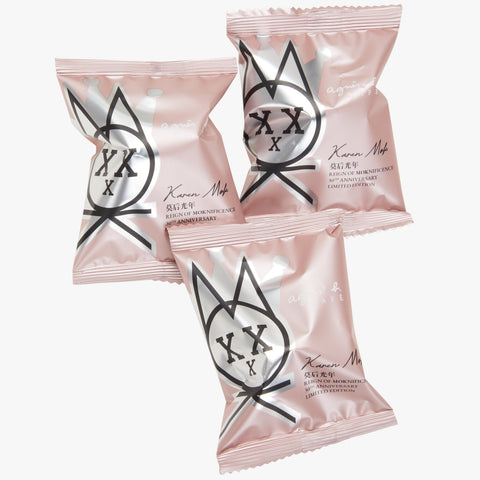 agnes b. x Karen Mok - Fortune Cookies (Limited-Edition) 限量版幸運曲奇
為慶祝莫文蔚 (Karen)小姐出道30周年這個美麗時刻,agnès b. CAFÉ特別與Karen聯乘推出限量版幸運曲奇。幸運曲奇以Karen慶祝出道30周年的紀念Logo「莫后光年」為設計禮盒主題,光環設計既代表Karen的歌后風采,更代表她的作品和表一直像陽光溫暖樂迷及觀眾。每盒限量版幸運曲奇均有30個小曲奇,每個曲奇內均有一句由Karen親自撰寫的語句,分享她喜歡的事物與心情。
此限量版幸運曲奇部份收益將會撥捐本地慈善機構,與Karen一同分享愛心。
【莫文蔚Fans Club 八折優惠】


原價HK$260 -> 優惠價: HK$208 (將於結帳版面顯示)
此產品為預訂產品 :
• 預訂日期 : 即日起至2023年11月30日
• 訂購時間 : 3天(下午6時截單)
• 取貨日期:2023年9月30日至12月3日
**請注意:於此頁面訂購之商品只適用於到店自取,如需安排送貨,請點擊以上連結。

**此優惠價格只限莫文蔚Fans Club使用。訂單中的個人資料將由莫文蔚Fans Club及agnes b.收集作推廣用途。

To celebrate the 30th anniversary of renowned singer and actress Karen Mok with our special collaboration - the limited-edition Fortune Cookies by agnès b. CAFÉ. These unique cookies feature Karen's commemorative logo "Reign of MOKnificence" as the design theme, each box of these limited edition Fortune Cookies contains 30 individual cookies, and within each cookie is a personal message by Karen herself, sharing her favorite things and emotions.
This limited-edition fortune cookie will donate a portion of the proceeds to local charitable organizations, sharing love and kindness together with Karen.
【Special offer for Karen Mok Fans Club : 20% off 】


Original price: HK$260 -> Special price: HK$208

 (Will be displayed in checkout page)
 IT IS PRE-ORDER ITEMS :
• Pre-order period : Now to 30 Nov 2023
• Pre-order day : 3 days (order before 6pm)
• Pick-up period : 30 Sep 2023 - 03 Dec 2023


**Remarks: Please note that the products ordered on this page are only available for in-store pickup. For delivery arrangements, please click the link above.

**The discount is limited-offered for Karen Mok Fans Club. The personal data in order details will be collected by Karen Mok Fans Club and agnes b. for communication purposes.
Ingredients / 成份
小麥粉、糖、牛油、雞蛋、膨脹劑及食用色素(160a) *生產此食物廠房亦處理花生、大豆及其製品。Wheat Flour, Sugar, Butter, Egg, Raising Agent, Color (160a). *produced in a factory where peanuts, soybeans and their products are also handled
Delivery or pick-up / 送貨或取貨安排
Storage / 存放方法
Remark / 備註
圖片只供參考。
Photo is for reference only.