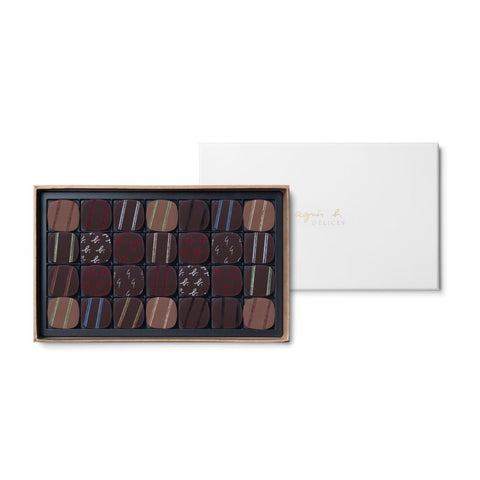 Bonbon chocolate gift box (28pcs)
- Bonbon chocolates with signature patterns.
- Flavours will be packed randomly in gift box.
- Use of French and European chocolate
Ingredients
Flavours include Grand Cru 85% Chocolate, Grand Cru 70% Chocolate, Grand Cru 68% Chocolate, Kalamansi Dark Chocolate, Crêpe Dentelle Milk Chocolate, 99% Chocolate, 70% Chocolate Ganache, Passionfruit, Croquant Milk Chocolate, Praliné Dark Chocolate, Raspberry Marmalade Dark Chocolate, Orange Marmalade Dark Chocolate, Toffee Milk Chocolate, Pistachio Milk Chocolate and Cassis Dark Chocolate
Shipping
Customers will need to pick-up at specified store in Hong Kong except hamper orders.
The earliest pick up time of confirmed order (with payment) before 6pm is 3 days after.
The pick up location CANNOT be changed after confirmation.
Storage
Remark
Product might contain nuts, milk, egg, gluten, soy and wheat.
Photo is for reference only.