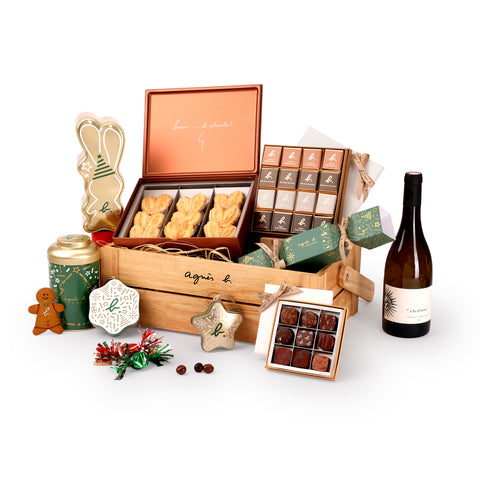 Let's Celebrate
Item includes :
1. Château de Montfrin, Côte du Rhône French Biologic White Wine
2. Christmas rabbit musical tin with raspberry & chocolate oat crunch (12 pcs)
3. Assorted bonbons gift box (9pcs)
4. Assorted chocolate carrés box (16 pcs)
5. Palmier gift set (9 pcs)
6. Snowflake ornament with hazelnut dragées
7. Christmas star ornament with traditional fleur de sel caramels (5pcs)
8. Musical tin with gingerbread cookies (8pcs)
9. Christmas cracker with chocolate papillote (6pcs)
FREE DELIVERY
*order before 6pm, the preparation time is 7 days.
*order after 6pm, the preparation time is 8 days.
Ingredients
Shipping
Customers will need to pick-up at specified store in Hong Kong except hamper orders.
The earliest pick up time of confirmed order (with payment) before 6pm is 3 days after.
The pick up location CANNOT be changed after confirmation.
Storage
Remark
Product might contain nuts, milk, egg, gluten, soy and wheat.
Photo is for reference only.