Wedding Favor
agnès b. offers a selection of gifts with unique details for
your guests to show your appreciations.
Show your gratitude for the love and warm support from the beloved guests by sharing these scrumptious and incredible wedding favours from agnès b. CAFÉ. This shimmery rose-gold heart-shaped gift box is newly introduced to contain carré or bonbon chocolates, which is an alternative to the sleek ribbon gift box with Napolitains or bonbon chocolates. Personalize your gifts to your guests with our gift boxes. This beautifully crafted gift will surely share your love and happiness with everyone at your wedding.
Wedding Coupon
a gift to share the joy of marriage with your loved ones and make your wedding even more meaningful.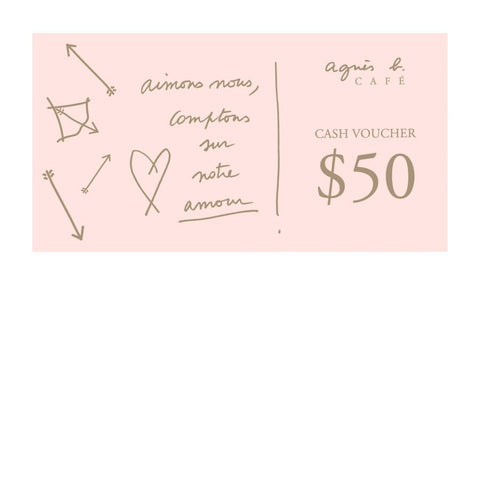 $50 Wedding coupon
Special Promotion
Buy 200 pcs, get 30 pcs free
The expiry date will be 1 year upon the pick up date.
Earliest pick up time: 7 days
For the order after 12:00 noon everyday, the earliest pick up time will be 8 days. 
Collect in Hong Kong shops only
View product details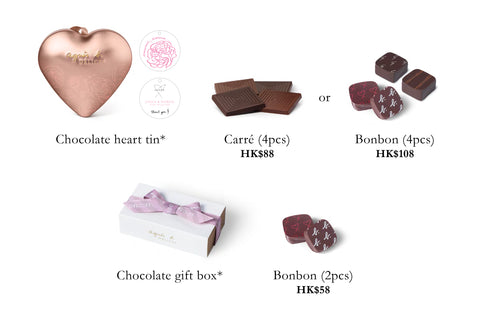 Customize service is available for b. your series, minimum order is 100 bags/pieces/boxes.
Additional printing charge of HK$750 is applied to order less than 300 bags/pieces/boxes.
Complimentary printing service is available when order over 300 bags/pieces/boxes.
For delivery service, please refer to our general and seasonal Terms & Conditions.
For details, please contact us via whatsapp 852-9248 1082 or email us at cafefleuriste@agnesb.com.hk